With proper treatment, you can get relief from the pain and stiffness associated with osteoarthritis. This can enable you to lead a healthier and more fulfilling lifestyle, adding years to your life. Contact us today for a free consultation!
Treatment Options for Knee Osteoarthritis
JRG of VA specializes in the treatment of osteoarthritis through Advanced Arthritis Protocol, a newer, non-surgical therapy that combines cutting edge, regenerative medicine with custom-fitted orthotics to relieve joint pain and avoid or delay surgery. Our patients get back to the activities they love without going under the knife. We specialize in osteoarthritis of the knee using the following: 
Hyaluronic Acid injections
Platelet-rich Plasma Injections
Fluoroscopy Guided to Ensure Accuracy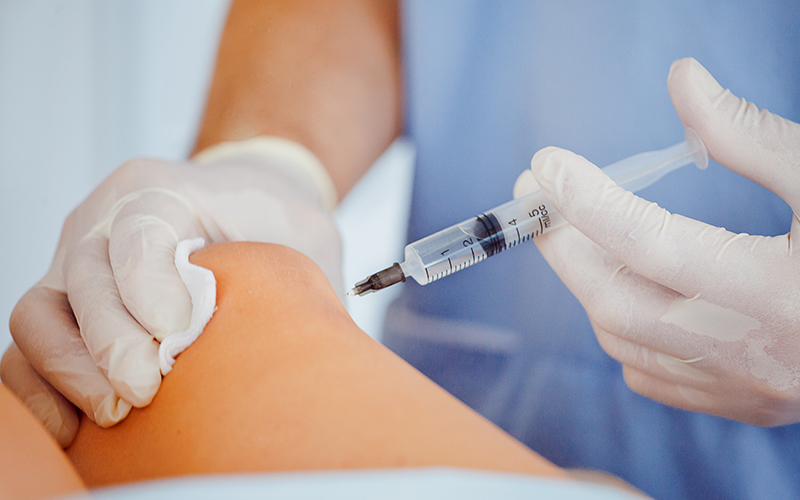 Joint Treatment Specialists
Viscosupplementation therapy is a procedure involving the injection of gel-like substances (hyaluronates) into a joint to supplement the viscous properties of synovial fluid. This procedure has been shown to be highly successful in alleviating pain associated with osteoarthritis and is covered by most major medical insurance providers, including Medicare.
At our clinic, we use FDA-approved fluid formulations such as Genvisc, Orthovisc, and Supartz.
With each injection, we utilize a breakthrough piece of medical equipment called fluoroscopy. Fluoroscopy is virtually a live-view x-ray and allows our medical staff to look inside your joints in real time with the latest imaging technology. This technique helps to ensure that the hyaluronic acid or PRP is injected in the joint which provides the best possible outcome from each treatment.
That's why if you have tried any type of pain reduction injection elsewhere without success, we may still be able to assist you as your original injection may have never wound up in just the right place.
Do You Suffer from Knee Pain?
Make an appointment and let our team evaluate you for Knee Osteoarthritis. You'll be glad you did!