Hello and welcome to our clinic! We are glad you have chosen us for your medical care. We promise to help provide you with the medical information and services you need in a friendly, professional environment. Here at Joint Regeneration Group of Virginia, we specialize in treating osteoarthritis through a combination of fluid replacement therapy, and custom-fitted orthotics.
JRG of VA specializes in the treatment of osteoarthritis through Advanced Arthritis Protocol, a newer, non-surgical therapy that combines cutting edge, regenerative medicine with custom-fitted orthotics to relieve joint pain and avoid or delay surgery. Our patients get back to the activities they love without going under the knife. We specialize in osteoarthritis of the knee using the following: 
Hyaluronic Acid injections
Platelet-rich Plasma Injections
Fluoroscopy Guided to Ensure Accuracy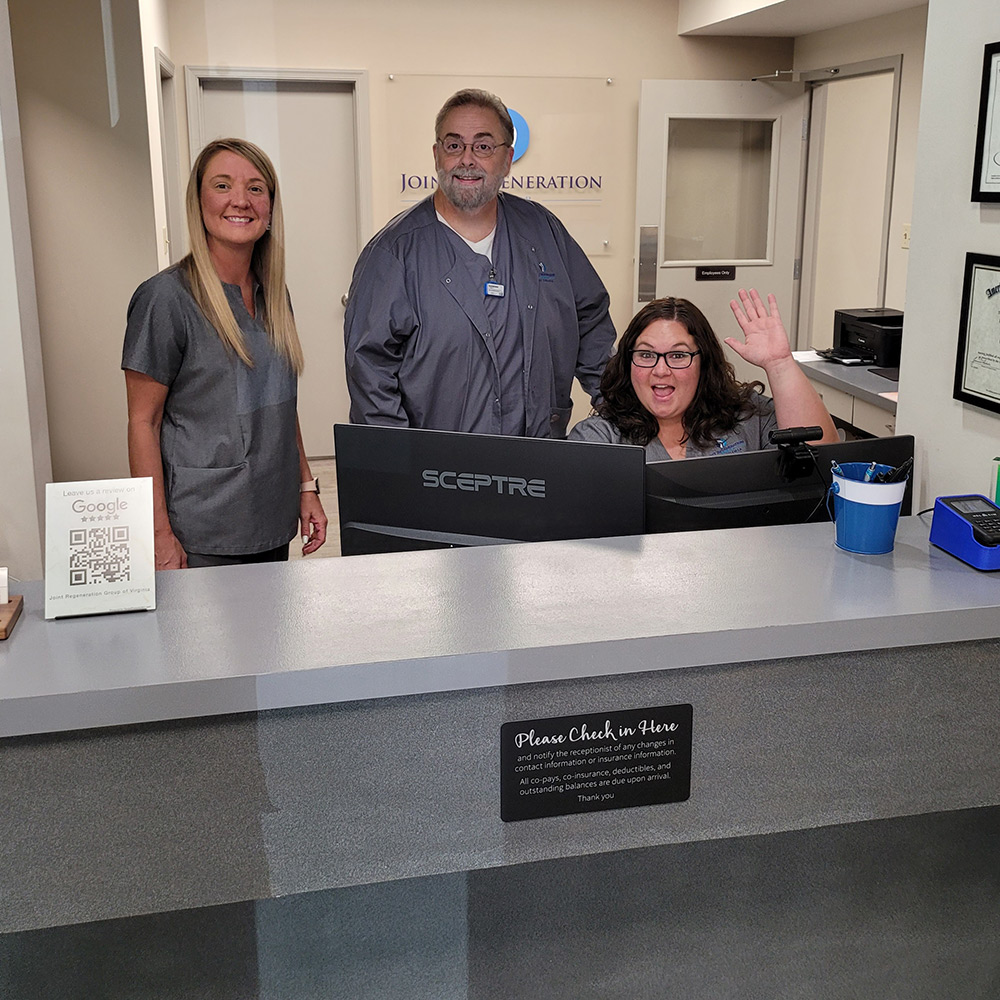 Joint Treatment Specialist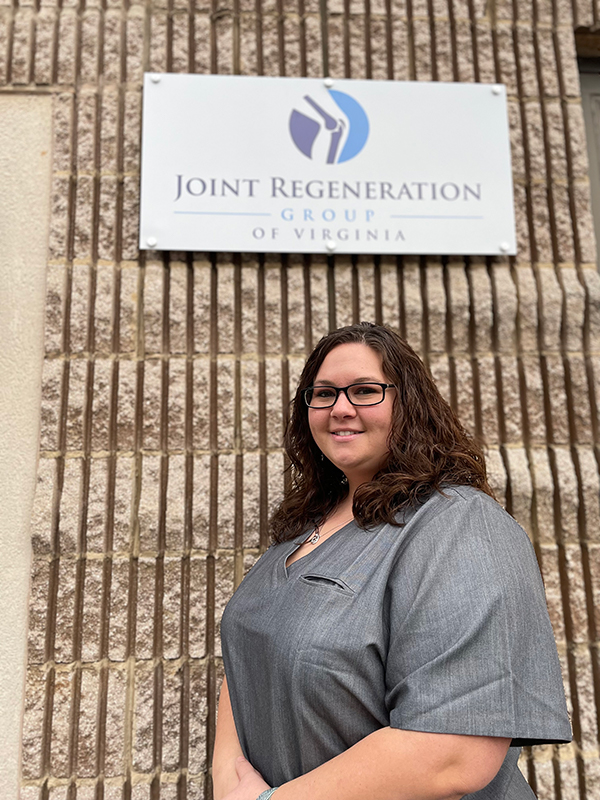 Heather Phoenix, RMA (AMT)
Heather Phoenix is an American Medical Technologist Registered Medical Assistant and our office manager here at JRG. Because she has a passion for being outdoors, Heather began her career as a recreational assistant for Montgomery County Parks and Recreation. Although she loved this work outdoors, she realized she had a real desire to help people more directly. Because kindness and compassion have always been guiding values for Heather, she transitioned into the medical field as a Medical Assistant (MA). She started working in primary care which offered a wide variety of experiences and rapidly expanded her knowledge base working with patients from newborn to seniors. In her work and personal life, Heather strives to implement the values of kindness and compassion each and every day in everything she does. She is a mother of one and spends most of her time with close friends and family as much as possible. She is very eager to help serve the Roanoke Valley and surrounding areas and has seen first-hand the wonderful benefits of this treatment program.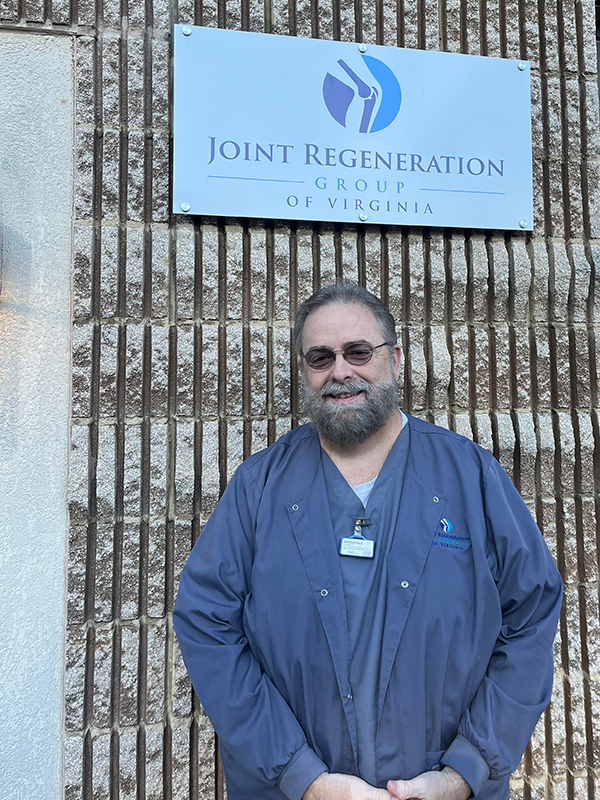 Joe Grisetti, AANP Certified Family Nurse Practitioner
Joe has lived in Franklin County for the last 16 years. Joe has been in the medical profession since 1981. He has worked as a Radiologic Technologist, CT Technologist, Paramedic, EMS Administration, EMS Instructor, Registered Nurse, Nurse Preceptor, and a Family Nurse Practitioner. As a Registered Nurse, Joe has worked in the Emergency Room, Operating Room, Orthopedic Call Center, and Hospice. Joe was worked as medical provider, Nurse Practitioner, in Family Medicine with both Carilion and the Salem VA Medical Center, Urgent Care and Neurology with Carilion, and Integrative Medicine locally. He graduated with honors from Jefferson College of Health Sciences, now Radford-Carilion University. Joe is a Board-Certified Family Nurse Practitioner with Autonomous Practice. Joe, his wife and fur-babies live in the Ferrum area of Franklin County and enjoy outdoor activities, friends, and family. Joe brings a wealth of experience and a passion for cutting-edge medicine to help relieve the pain and suffering of others.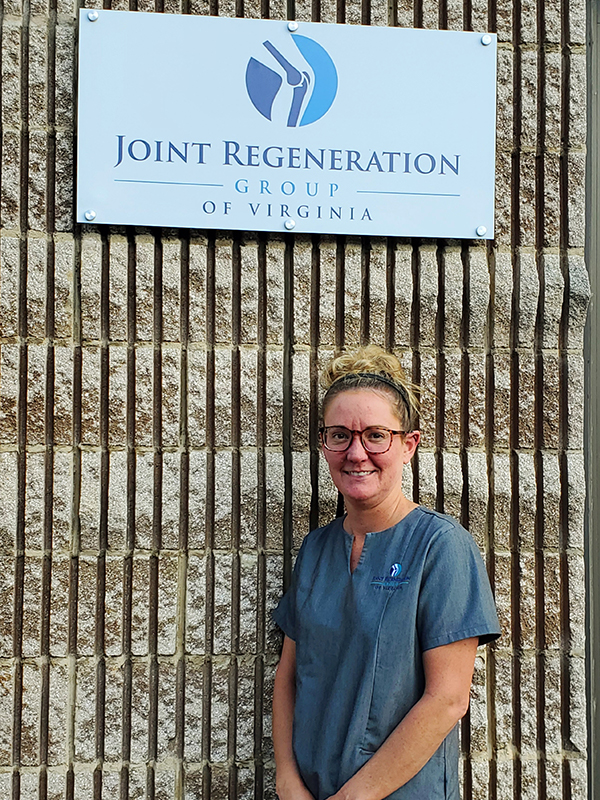 Megan Cornett, Assistant Office Manager
Megan Cornett, our Assistant Office Manager, has grown up locally here in Roanoke her entire life. She has enjoyed working as a Certified Nursing Assistant in the medical field for most of her adult life, helping to provide the best patient care possible. She also enjoys softball, hockey and the great outdoors and spends most of her time at Smith Mountain Lake with her friends and family on the weekends. She and her husband love to travel as well, every chance they get, and explore the many sights and cultures this world has to offer. Family is also a large part of her life with lots of nieces and nephews to keep her busy, along with 3 Labrador Retrievers. In her work life, caring for the elderly has always held a special place in her heart and has been her main focus for over a decade as a CNA. She is fully committed to helping patients get the care they deserve in the kindest way possible.
Do You Suffer from Knee Pain?
Make an appointment and let our team evaluate you for Knee Osteoarthritis. You'll be glad you did!